2004
My 2004 Trip To Spain
From Thursday, February 12 to Tuesday February 23, 2004, we traveled to Spain, where I collected a few weeds and made a short trip to the Sierra Bermeja to see the Pinsapo (Pinus pinsapo Boiss.).
Thursday February 12th
Our flight took off from San Francisco a few minutes late due to the large crowd on the plane. Not much to say about the flight, except that we arrived in Philadelphia a few minutes early.
Locations: Sevilla.
We walked over to the international terminal to wait for our flight to Madrid. The plane was a few minutes late arriving from Cancun, so we left a few minutes late for Madrid. The plane to Madrid is also full.
There was one poor young man who had lost his passport at Philadelphia. No one could find it, but they made repeated announcements of a lost passport in the airport. Someone must have found it because he was last on the plane, with his passport, to a rousing cheer from the group with whom he was traveling.
Friday February 13th
Our flight arrived at about 945 AM, about 15 minutes late. It took a few minutes to get off the plane. The lines at Passport Control were pretty long, and it took 15-20 minutes to get our passports stamped. No hurry, though, as it was another 10-15 minutes before our luggage arrived. At the airport, we took a taxi to the Atocha railroad station, arriving about 10 minutes after 1100 AM. It was a good thing we had reservations on the Noon AVE, as we would not have made the 1100 AM train.
The platform for our train to Seville was not announced yet, so we waited a few minutes until 1130 AM when our train was announced.
The train attendants saw us coming with our baggage and asked to check our luggage. We agreed, and found it easier than loading the baggage on our car ourselves. Our seats were in the left side of the train, two seats facing each other. I was able to stay awake only about the first half hour, then my wife and I traded seats so she could sit facing forward and see the scenery, while I rode backward with my head slumped over, sleeping. I vaguely remember stopping in Cordoba, and then we were in Sevilla.
my daughter met us at the train station. She came on the bus from her school. We had juice while we waited for son in law. When son in law arrived, my daughter drove us home in the car, while son in law stayed in Sevilla to teach his class.
Locations: Bormujos.

Rachel and Kiko
At home in Bormujos we met Kiko the cat, and visited a bit. my wife and my daughter started going through all the things that my wife had brought in her second suitcase: lots of baby clothes, diapers, etc. As I was starting to fade fast just sitting on the couch, I decided to take a walk. I walked all around the development containing my daughter and son in law's house, over to the hospital, down to the University, up to the MAS supermarket, and then home again. This took about a half hour, and helped wake me up a bit.
In the evening after my daughter went to get son in law, we decided to get Chinese food, so my daughter, son in law and I walked over to the Chinese restaurant, and ordered some food. The House Special Soup was a bit of a combination Egg Drop and Hot and Sour soup, there was Chow Mein, Sweet and Sour Chicken and vegetables. No fortune cookies. There were also some traditional Spanish foods on the menu. The food was good, but not seasoned as much as we would expect from Chinese food.
Saturday February 14th.
Other articles:
• Field Notes: Plaza de España;


Julio, Nacho, Maria Jesus, Rachel, and Cheryl at Plaza de Espana.
This morning we got up about 930 AM. After breakfast we drove into the "Center" (downtown Seville) and met son in law's parents, Julio and Maria Jesus. We walked through Parque Maria Luisa and then part of the Plaza de España. At the Plaza de Espana, there are tile displays for each of the provinces of Spain. We stopped and took this photo at the tile display for Pontevedra. son in law's mother is from Pontevedra. The tiles depict a scene from the history of the city. Unfortunately, I did not write down the event in history.
At a terrace restaurant at the edge of the park, we had a coffee. From there we walked through the Barrio Santa Cruz to Plaza Alfalfa, where we met Pamen and Julio and their two children: Marta and Julio (sometimes called "Julito" or little Julio).
Lunch at Habanita
We had lunch at Habanita, a Cuban restaurant in Alfalfa. We had various things to start, including Bleu Cheese croquettes and Spinach croquettes. I had the lamb meat balls on cous-cous. It was pretty good, but I was a bit surprised by cumin seasoning instead of garlic. Maria Jesus had a combination plate, from which I tried the fried Yucca. Not much flavor, and a bit fibrous, but not bad. Unfortunately, they did not have salmorejo today, which was a bit of a disappointment.

Lunch at Habanita
When the waitress first came to our table, Pamen asked for some food for the children. Some meat and french fries were brought out to the table very quickly. The children then got to eat quickly, while the adults had drinks, then appetizers, and finally their meal.
I noticed another party in the restaurant did the same thing. After eating, it was OK for the children to get up and visit their grandparents, and other adults around the table. I thought that was a good approach, as I think in the US, we expect the kids to wait patiently until the adult meal was served before the kids could eat. At large family meals, it is often the same; first, the kids are fed, then the adults eat while the kids play.
On the walk back to the car, we stopped for a few minutes at a new store called OpenCor, which had a little bit of everything. A little more stuff than a 7-11, maybe more variety, and no gas, but otherwise similar on the concept. son in law's parents and Julio and Pamen came up to my daughter and son in law's house. This was the first time that Julio and Maria Jesus had seen the house.
Kiko the cat was an instant hit with Marta and "Julito" and they played with and chased Kiko the entire time, both inside and out. The adults visited and talked, in both English and Spanish. son in law's brother, Julio, speaks very good English, and Pamen speaks more than I thought. Some time ago Pamen gave my daughter and son in law a painting of oranges, orange blossoms in an orange tree that she had painted from the family's country house in San Javier. my daughter and son in law have hung the painting above their fireplace on a living room wall, which is also the exact color as the oranges.
After visiting Julio and Maria Jesus went back to the military residence in Sevilla where they are staying, and Pamen, Julio, Marta and Julito drove home to the Navy base at Rota.
We went to the supermarket near the other end of Bormujos, as there was not much food in the house. Parking for the supermarket is in the basement and you ride an elevator that lets you off at the checkout counters. For ground turkey, you pick out some turkey you like and the butcher grinds it on the spot. Most of the fruits and vegetables are prepackaged and pre-priced. Otherwise, it wasn't much different that what we have.
For dinner, we were pretty informal, my daughter had leftover Chinese food, I had some left over Chinese soup, an apple and some cheese. I think my wife had an orange, and son in law had some of the soup and a sandwich.
Tomorrow (Sunday) I think Julio and Maria Jesus are coming over for a while. Otherwise, I don't think there is much on the agenda.
Sunday February 15
This morning we drove into Sevilla to see Nika and Carlos and their new baby Miguel. They are buying a house in Tarifa, to be closer to Carlos' business of making and selling surfboards and related equipment, and will probably move there this summer.
Nacho and Tom work on the fence.
Back at the house son in law and I worked to remove some of the chain link fence at the back of the yard. The neighbors behind son in law and my daughter are having a garden shed constructed that backs up to the fence. Since most construction is done in brick with cement plaster coating, the back side facing the yard was rough brick and mortar. We needed to remove the chain link fencing so that the workmen can finish the side facing the yard.
Then, my daughter and my wife talked while son in law took a nap, and I went out collecting weeds in the neighborhood. One thing I collected was definitely a Solanum, another in the Hydrophyllaceae, probably a Phacelia, one that looks like the Evening Primrose Family (Onagraceae) and a couple more, one that looked like an Astragalus from a distance, but definitely wasn't one close up. I don't have a plant press so I put the plants between sheets of newspaper, then put some bricks on top of them and then added a sack half-full with cement to press the plants. We'll see how it works.
Coll. No. 324, Silene scabriflora


Coll. No. 324, Silene scabriflora
324
Silene scabriflora Brot.

Bormujos, (Sevilla) Andalucia. In the neglected olive grove just west of the Hospital San Juan de Dios del Aljarafe, now the location of the elementary school: CEIP Santo Domingo de Silos. 37.3723°N, 6.0858°W. WGS1984 Elev. 96 m.

Coll. No. 324, keyed 13 Dec 2012, characters observed: Herbaceous perennial (?), to 40 cm.; Leaves opposite, oblanceolate, to 30 mm. x 10 mm., smaller distally; Inflorescence raceme; Calyx 11 mm x 4 mm. wide, dark ribbed; Sepals fused most of length (90% ?), strong dark mid-rib, long wavy hairs more dense distally; Petals, 5, tube 12 mm + blade 5 mm = 17 mm, 2 lobed, tube fused 1/2 length; Stamens 10; Ovary 2.5 mm., elliptical; Styles 3, 4 mm., free to base.
Literature Cited:
- Valdes, B., 2011.

Echium plantagineum growing in a vacant lot, Bormujos (Sevilla), Spain

Coll. No. 325, Echium plantagineum
325
This one looks like a Phacelia, turns out to be an Echium.

Echium plantagineum L. Purple Viper's Bugloss.

Bormujos, (Sevilla) Andalucia. In the neglected olive grove just west of the Hospital San Juan de Dios del Aljarafe, now (2013) the location of the elementary school CEIP Santo Domingo de Silos. 37.3723°N, 6.0858°W. WGS1984 Elev. 96 m.

Coll. No. 325, 15 Feb 2004, characters observed while keying: Annual, to 35 cm.; Corolla, 23 mm., blue-purple, long hairs mostly on nerves, but also on margins of lobes (not short hairy throughout); Stamens, at least some exserted. Keyed with: Anthos. 2011. Sistema de información de las plantas de España. Real Jardín Botánico, CSIC- Fundación Biodiversidad. Recurso electrónico en www.anthos.es. Consulta realizada en marzo de 2011[Fecha de la consulta: 11 Sep 2013].
Literature Cited:
- Polunin, Oleg and Anthony Huxley., 1966.
- Polunin, Oleg, and B. E. Smythies, 1973.

Cerinthe major L. in Bormujos (Sevilla), Spain
326

Cerinthe major L.in Bormujos (Sevilla), Spain

Cerinthe major L. I found this plant in the vacant lots within Ciudad Universtario, Bormujos, and in lesser numbers in the old olive grove west of Hospital San Juan de Dios del Aljarafe. It has alternate clasping leaves, and purplish flowers with a slight purple blush on leaves near the flowers.

Typically the species is described as having yellow flowers (Polunin and Smythies, 1973). However, the plants in Bormujos had purplish flowers. There is a cultivar typically called C. major 'Purpurescens' that is commonly found on the Internet, or possibly a variety C. major var. purpurescens Boiss. which is described as having purple flowers, bracts and foliage (Polunin and Huxley, 1966). IPNI (http://www.ipni.org/) does not list var. purpurescens as being published and therefore it may be that 'Purpurescens' is simply a cultivar.

The plants I collected in Bormujos do not fit neatly into the species or into cultivar 'Purpurescens' as it looks to be intermediate between the two or perhaps something different.

Borago officinalis L. in Bormujos (Sevilla), Spain


Borago officinalis L. in Bormujos (Sevilla), Spain
327
Borago Officinalis L.
Fedia cornucopiae (L.) Gaertner in Bormujos (Sevilla), Spain

Fedia cornucopiae (L.) Gaertner in Bormujos (Sevilla), Spain
328
Fedia cornucopiae (L.) Gaertner in Bormujos (Sevilla), Spain
In the evening we had dinner with son in law's parents. There was lots of talk about names for the baby, and other domestic things. I had honey roast lamb that tasted good, but was either too much or too late, as we finished dinner at 1130 PM, and I had a slight bit of discomfort through the night.
Monday February 16th. my daughter's birthday.
This morning the workmen are finishing the back of the neighbor's shed. They use mortar to finish the brickwork, and they added some bricks to keep the water from getting in between the little pump house and the neighbor's garden shed.
Rachel's birthday dinner.
my wife and my daughter made a lemon pie to celebrate my daughter's birthday. Then they started making the spaghetti using the Lawrey's spaghetti sauce mix that we brought with us.
Card from barbershop.
I went out to the barber shop "Peliqueria de Caballero" and got my hair cut. Requested "dos millimetros sobre todo" and the barber did pretty well. Looks just like a haircut in the US.
I also stopped at a paper shop and bought a Spanish birthday card for my daughter. The words look like they are appropriate; I hope they turn out to be so.
This afternoon, after siesta, we went out to look for at plants in nurseries. We went to one nursery in Gines, the town just across the freeway. It took a little while to find because the map showed a bridge across the freeway that we had not noticed before. It was just a one-lane country bridge, and not made for lots of traffic. Then the nursery was down a long driveway. They did not have too much stock and said that their first shipment was expected at the end of this week. They did have the Eureka lemons, like the dwarf lemon tree that my wife is growing on our back deck.
From there we went to Bollullos because son in law thought there was a nursery there. Bollullos is a little farther west (away from Sevilla), and a little farther south of the highway to Huelva. There was a nursery there, "Vivero Los Azahares," (www.los-azahares.com), but it is closed on Mondays. So we drove through Bollullos and into Umbrete to a garden and farm equipment store. There son in law got an estimate for a lawn sprinkler system. The estimates are still given in Pesetas in addition to Euros. Maybe that is to help people understand how much things cost.
On our return to the house, we got some dinner, and then watched the news on TV.
Tuesday, February 17th.
This morning we got up a little earlier as we are going into Sevilla with my daughter. After breakfast we walked over to the bus stop, where we caught the bus to Sevilla from Bormujos. It's more like a commuter bus than a city bus, with upholstered forward-facing seats. You can buy a ticket that gives 10 rides into or out of the city with a transfer in the city. Unfortunately, the only place to buy the tickets is in the city. All three of us were able to ride on my daughter's one ticket. Just before crossing the river into Sevilla, we got off and transferred to another bus that ran through Triana and Los Remedios before crossing the river into the city. We got off this bus as soon as we crossed the river, and then walked through one end of the Parque Maria Luisa to the street where my daughter works, Calle Felipe II (Felipe Segunda).
We visited her school, TEFL International, which it shares with the English Institute, and met Chris, one of the teachers, then went a short way up the street to buy bus tickets in a Tobacco shop. I think it was about 10€ for the Bormujos-Sevilla bus ticket, and 3.80€ for 10-ride ticket for use just within Sevilla.
We left my daughter to work, then walked down the street to a book store. I was hoping to find Polunin's "Flowers of South-West Europe." They didn't have it. They did have a Flowers of Europe by Polunin in Spanish, but the identification key was in Spanish, and I did not think I could follow the key. They also had aerial photographs of Andalucia, and of the National Parks of Andalucia. Anyway, we did not get any thing at the bookstore.
Back on the street, we caught the number 30 bus that runs into the city center at Plaza Nueva. We walked up to Sierpes (as in "serpent" as it is a twisting shopping street), and got a Cafe con Leche. Then we did a little bit of shopping before arriving at El Corte Ingles (Spain's big department store). We bought some red thread to match my daughter's red curtains, and asked about sewing machines (maquinas de coser). my wife wants to have a sewing machine available when she is here in the summer. The sewing machines were in a different building, and the clerk tried to show me on the map where it was. As we were leaving the store, we saw another map showing where the other building was ... down the street, thru the alley, jog left, another narrow street, jog right, thru the plaza ... etc. No streets, of course, are straight, and some are only a block long.
Tom holds the sewing machine in Plaza Nueva.
Anyway we found the other El Corte Ingles building, and the sewing machines upstairs. They had a basic model with a few features that my wife wanted. When we asked to buy it, they brought out a different model. It was close; it was model 1416 when we had picked out model 1406. We had some discussion in Spanish. The thing is that early in the year all the stores have sales (rebajas), and they are very predictable, but not necessarily clearance sales. For the sewing machine model we picked out was last year's model and therefore not on sale, but the model the salesman brought out was a new model on sale (nuevo modelo en rebaja). He even took the new 1416 model out of the box to show us feature by feature that it was the same as the 1406 model. So we bought it. The salesman made a very clever carrying handle out of tape, and we set forth thru the narrow city streets with sewing machine in hand.
Back at Plaza Nueva, we sat and watched people for a while, then boarded the 33 bus. Less than 15 minutes later we got off at C/ Felipe II, the street of my daughter's school. son in law came from work a few minutes later, and we drove to Bormujos for lunch. After a short siesta, son in law is preparing for the class he teaches tonight. While I write this, my daughter is training my wife to operate the washing machine. Not sure what we're doing this afternoon; perhaps walking to the fruit store in downtown Bormujos. my daughter is also showing my wife how to operate the stroller that son in law bought when he was in the US for his recent class.

Interior of the Library in Bormujos
The library in Bormujos …
Buying strawberries at the market.
Buying Strawberries …
my daughter went into Sevilla for her yoga class.
Wednesday February 18th
This morning my daughter is staying home for a little vacation. my wife and my daughter are cooking, bran muffins this time. They sent me to the supermarket to buy a few things. One of the things I had to get was lowfat milk. Unfortunately, I was going by the color of the cap on the milk jug rather than reading the labels. The milk from Asturias has a blue cap on the low fat milk. But the other brand of milk has a blue cap on the whole milk. Well, I bought milk with a blue cap, but it was the wrong brand, so I bought whole milk instead of low fat milk. In Spain, they irradiate the milk, so it doesn't have to be refrigerated until it is opened. Next on my list were eggs; that was pretty easy. Last was dried apricots ("orejones albaricoques"). Fortunately, my daughter had written this down, and I did not have to say it to the clerk I asked. He said a long speech, but I got the "fruteria" part so I assumed they were with the fresh fruit. And they were, just off to one side a little bit. my wife also wanted some buttermilk, but my daughter had no idea what that might be.
Locations: Bormujos.

City Hall of Bormujos.
After delivering the groceries, I set forth for a walk around town. I covered most of it, and sent the photos yesterday. The city hall is on the main street of town in about the middle.
Locations: Bormujos.

The Church in Bormujos.
Below it is the older town with the narrow streets and the church.

Hacienda Belen, Bormujos Olive Plant.
Towards the west end of the old town is Hacienda Belen, where they used to bring the olives for pressing and preserving. Outside the hacienda are three old ollas, that were used to store olive oil after pressing.

House on C/ Pablo Cosso Calero, the main street of Bormujos.
The building is quite run down now, but it seems to be in use for some purpose. Most of the houses in town were one or two stories. The roofs were flat, and many houses had stairs giving access to the roof, where there was often a clothesline. Many of the houses were decorated with tile around the doors and windows.
Hardware Store in Bormujos
At the hardware store, we bought son in law a pair of diagonal wire cutters for the next time he needs to work on the fence.
At one house that I liked, the woman was washing the step, so I was waiting to take a photo by looking at the photos of houses for sale in the window of a real estate office. A very earnest young man came out to greet me and help me find me dream house, but eventually we decided that I was truly only looking and not planning to buy.
In the afternoon, we did some more shopping for landscaping supplies and plants. We went to a "polvero" (a dust place) in Gines to ask about bringing in some decent dirt to support a small lawn. son in law calculated he needs 4.25 cubic meters. You have to call the day before you want it and they dump it in the street, which means son in law will also need a wheel barrow and a shovel.

Vivero "La Menara"
Just up the street from the "polvero" was the "Vivero La Menara" or nursery. This was a very good one, with both fresh and mature stock. They had several species of what we would call "locust trees," but none that I would identify as the Robinia pseudo-acacia that we plant in the US. One tree was listed as a "Catalpa" but not otherwise identified as to species. I was interested in the Catalpa because the Desert Willow (Chilopsis linearis) that I see in the Eastern Mojave may be in the same genus depending upon what is meant by "Catalpa." I think also that the tree stock in the nurseries is much more mature that those a US nursery sells, perhaps 7-8 years, and heavily pruned, whereas I think US nurseries mostly sell younger trees that have not been pruned.

Thinking about trees in Vivero "La Menara"
I think son in law and my daughter are settling on a Granado (pomegranate), a peach (melocoton) tree and a lemon tree. Since they don't have a lot of space, it would make sense to select trees that also gave fruit back. We also drove back to the nursery in Bollullos "Vivero Los Azahares," and took a look there. This nursery did not have so many trees, but it did have a good selection of smaller shrubs. Here, I learned that vines are called "rampantes" somewhat like the English adjective "rampant," meaning growing or extending unchecked. They had some very nice Trumpet Vines, in the genus Bignonia, also related to the Catalpa and the Desert Willow.
Locations: Bormujos.


Interior of the Library in Bormujos
We came back to Bormujos, and went to the library to get a book about trees. I think son in law was looking for information about how big trees got, what they looked like, how to care for them, etc. The library did not have a book about trees, but he did get a book about garden planning. While son in law looked for them, I perused the travel section, and found that there are many small books about places to go or things to do in Andalucia; books that we don't have access to in the US.
For dinner, we finished off the spaghetti from my daughter's birthday dinner
Thursday February 19th.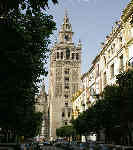 The Cathedral Tower with Giralda.
This morning we got up a little early and rode the bus into Sevilla with my daughter. After arriving near her work, my daughter and my wife had breakfast (toast with oil and pureed tomato), while I had a coffee. We parted company, and my wife and I took a number 33 bus closer to the center of town, and then walked into Barrio Santa Cruz. We entered at Calle Agua where the town water supply was carried in the walls of the city. Then we wandered our way through the barrio -- the former Jewish ghetto of Sevilla -- coming out once at the Cathedral because I wanted to take a photograph of the Giralda at the top of the Cathedral tower. When I gave my talk about "Outdoors in Southern Spain" at UC, someone spoke up and pointed out that the tower of the Ferry Building in San Francisco was modeled after the Giralda Tower in Sevilla. It was first the tower of the mosque in Sevilla, but now is the tower for the Cathedral.
Other articles:
• Field Notes: April 16, 2003;
We ducked back into the barrio and found ourselves coming out at the intersection from whence we watched the Paso de San Bernardo enter the inner city during last year's Semana Santa.
Courtyard in Barrio de Santa Cruz
After the paso went by last year we hurried thru the barrio, sort of in the direction of my daughter's house, and I remembered looking through a grille and seeing a wonderful courtyard garden. So we plunged back into the depths of the barrio and, by luck, went straight to the place. Looking at it at length this time, it now seems to be courtyard for a hotel, or a short-term residence. Still very nice and worth a photo.
We wandered a bit and came out near the street where my daughter and son in law used to live, Escuelas Pias, and the walked down to Plaza Ponce de Leon, where we got a Coke and rested a few minutes.
We went back up to the main street that follows the old city walls (so we were just outside the old city), and caught the No. 1 bus that took us to the street where my daughter works.
son in law joined us for lunch, and we walked to a neighborhood bar for lunch. "Lunch" starts about 230 PM in the afternoon and goes until about 400 PM. It still seems a little strange to go to a bar for lunch. I mean, a BAR is a not-very-good place where not-very-good people hang out. But in Spain this is not so. This was a family bar, the father mostly ran the bar and did the out-front work, the mother mostly did the cooking and a little of the serving. Their older son, who looked to be about 13 helped out with the serving, and also made the coffees we had. The younger son, about 7 or 8, helped with carrying the cardboard boxes out. He also had taken over the chalkboard, intended to announce the menu of the day, to draw pictures on, by the time we left. We started with a salad of lettuce, tomato, onion (like yellow onion), and tuna, covered with oil and vinegar, and salted a bit. son in law started with a potato stew with clams. Then, my daughter and son in law had tuna that looked like it was braised with some onion, served with french fires, my wife had "espinacas" which is spinach cooked with garbanzos. I had chicken, like a boneless chicken breast, breaded and fried, that also came with a few french fries. Then we drove home.
It's now about 630 PM in Spain. While at home, it would be dinner time, in Spain it is pretty much mid-afternoon. son in law has gone to the bank, and my wife and my daughter are hemming the upstairs curtains.
Tomorrow we are leaving for Jubrique. The next and probably last e-mail would be Sunday night or Monday morning, after we return from Jubrique, but before we go to Madrid for the flight home.
Friday February 20th.
Today we drove to Jubrique. son in law came home from work a little bit early, while my daughter and I went to get a rental car. We took the bus to Mairena, the next town to the south, and then walked about 20 minutes to the car rental place. It seems to be associated with National and Alamo, and goes by the Spanish name of ATESA, an acronym. After packing the car son in law sat in front to help guide me out of the city. Our highway, A-376 to Utrera, was on the other or east side of Sevilla from Bormujos. There is a major highway that goes around Sevilla so it is not necessary to go through the center.
Our drive to Ronda was uneventful but rainy. Starting in the plains of the Guadalquivir Valley, first there is an undulating terrain, then low rooling hills, then foothills, and then the low mountain ranges of the sub-Betic system. We stopped in Ronda, parking under the town square. It was raining lightly so we walked around town and across the main bridge that joins the two halves of the town, then back to the Parador to get a coffee.
Locations: Ronda.

Shopping Street in Ronda.
We shopped in the main shopping street and then returned to our car, and headed south.
We took a small road to Benoajan, past Cueva de la Pileta that we have previously visited, and turned off at Jimena de la Libar. This is the town in which Chris, one of the teachers at my daughter's school, has a finca or small ranch. The road went back up to the ridge top where we drove along a way until time to turn off to Jubrique. The road descends into the valley, crosses the Rio Genal, and then begins climbing up to the next ridge. About half way up is Jubrique.
Locations: Jubrique.

Front door to Casa Rural Maria Munoz.
We met the owner of our Casa Rural at her store "Todo Desde 1000 300 etc," generally called the "Dollar Store." She rode with us down the road a way then back up another little winding road leading to Jubrique Alta, or the high part of the town. Our little house is about half way up in the town, and no more than 250 feet from to Dollar Store on the main road.
Locations: Jubrique.

We build a fire to try to get warm.
It has a combination living room, dining room, and kitchen, two bedrooms and a bathroom. But ... typical of houses in Andalucia, it has no heat. There is a fireplace and wood can be purchased for 9€ a sack, but definitely no heat.