If you have a question or a comment about this photograph you may write to me at: tas4@schweich.com I sometimes post interesting questions in my FAQ, but I never disclose your full name or address.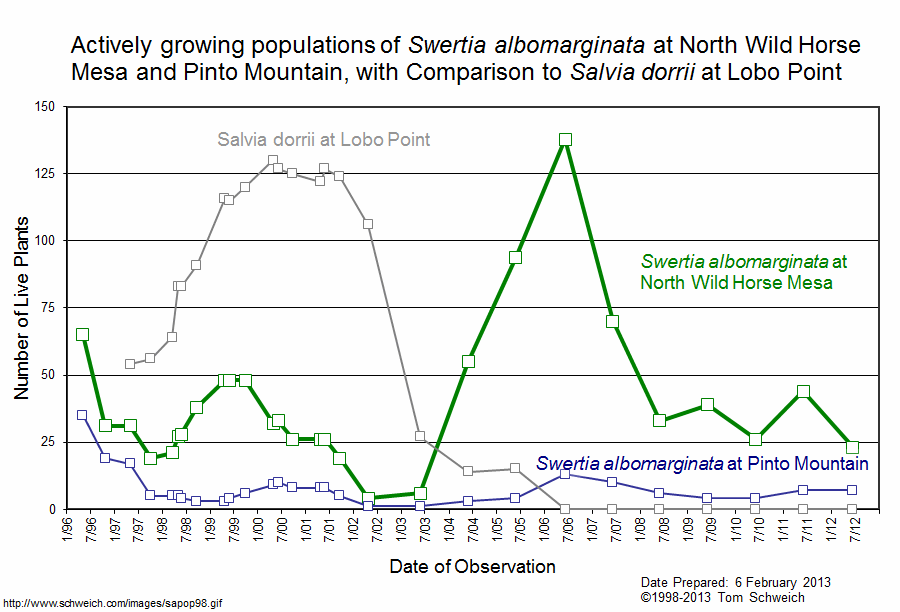 This figure shows the total population of F. albomarginata at both sites by date observed. A comparison is made with the population in a nearby plot of Salvia dorrii. I established the plot in April, 1997 as part of a separate study, then realized that the plot may provide a control for Frasera albomarginata populations.

Salvia dorrii is a common woody perennial that produces significant amounts of seed. In my gardening with Salvia dorrii I have learned that the species germinates readily, and seedlings establish quickly. Not surprisingly, the population of Salvia dorrii increased at the same time as Frasera albomarginata during the El Niņo years of 1998-1999.

The populations of both species plummeted in the drought years of 2001-2003.

The number of Frasera albomarginata increased rapidly, after the drought in 2004-2006, because there was seed stored in the soil. However, the population of Salvia dorrii did not increase because there is no soil seed bank, and the living plants had to recover and produce seed over several years before there would be seedlings.

Unfortunately, we will never know whether the number of Salvia dorrii would have increased in 2006 because the species was extirpated from my plot by the Hackberry Complex Fire of June 22-25, 2005.

Article records that use this photograph:
Effects of the Hackberry Complex Fire in Mojave National Preserve, June 22-25, 2005.: 241020.
Autecology of Desert Elkweed Frasera albomarginata S. Watson (Syn: Swertia a.) Gentianaceae in the American Southwest: 139100.
Other photos about Frasera albomarginata or Population.
---
Date and time this page was prepared: 11/20/2023 9:49:29 AM