Copyright, 1992, Jefferson Co. Nature Association

The Jefferson Co. Nature Association is a non-profit organization dedicated to ecological research and public education in Jefferson Co. For more information, contact the association at Jefferson Co. Nature Association, PO Box 593, Morrison Colorado, 80465.
---
Figure 1. View of North Table Mountain from Lookout Mountain. (This image temporarily replaces the original image in Figure 1 until copyright permission can be sought and obtained.)
---
Introduction
Locations: North Table Mountain. South Table Mountain.
North and South Table Mountains separate Golden from the western portion of the Denver metropolitan area. They have become islands of less disturbed habitat in a highly urbanized area (Figure 1). They are geologically and biologically similar and indeed would be a single mountain had not Clear Creek eroded a channel between them, separating them completely. Figure 2 shows a regional location map of the mountain and surrounding geography.
The northernmost, North Table Mountain, rises higher than its counterpart, is somewhat smaller and less disturbed, and is capped with three instead of two ancient lava flows.
North Table Mountain is a flat-topped mountain located a mile east of the Front Range ramparts and stands out as a dominant landmark of the northern plains of Jefferson County. The mountain rises almost 1,000 feet above the surrounding plains and forms a scenic gem, visible for great distances. Its slopes are steep and inhibit access to the top, which has been heavily grazed but largely unplowed. The mountain consequently harbors a native biological diversity increasingly unusual in the urbanized part of northern Jefferson County.
Literature Cited:
- Van Horn, Richard, 1976.
- Waldschmidt, W. A., 1939.
- Zeise, Larry Steven, 1976.
Numerous scientific studies have included North Table Mountain in their scope. Several geological studies of the area have been made, culminating in an extensive study by Waldschmidt (1939), which was later updated by Van Horn (1976). A biological study was carried out by Zeise (1976), and much of the information in this paper is drawn from that study. In 1979, as supporting documents for a mine application by Western Paving Construction Co., field studies of cultural resources, geology, soils and other features were made. This report compiles pertinent results of these previous studies for reference.
No detailed field studies of North Table Mountain have been done to date by the Jefferson County Nature Association, but this report incorporates our observations during field trips from 1988 through 1990, as well as summaries of earlier studies and historical material. In 1992, additional field inventories were conducted by the Colorado Natural Heritage Program.
This report is a beginning. It summarizes existing information and suggests areas for future study. If North Table Mountain is to continue as a valuable and significant natural feature of northern Jefferson County and retain its present biological diversity, future management of the area will need to incorporate as much information as possible. Recommendations for the potential use of the area as a biological preserve are presented in the summary of this report.
Geographic setting on North Table Mountain.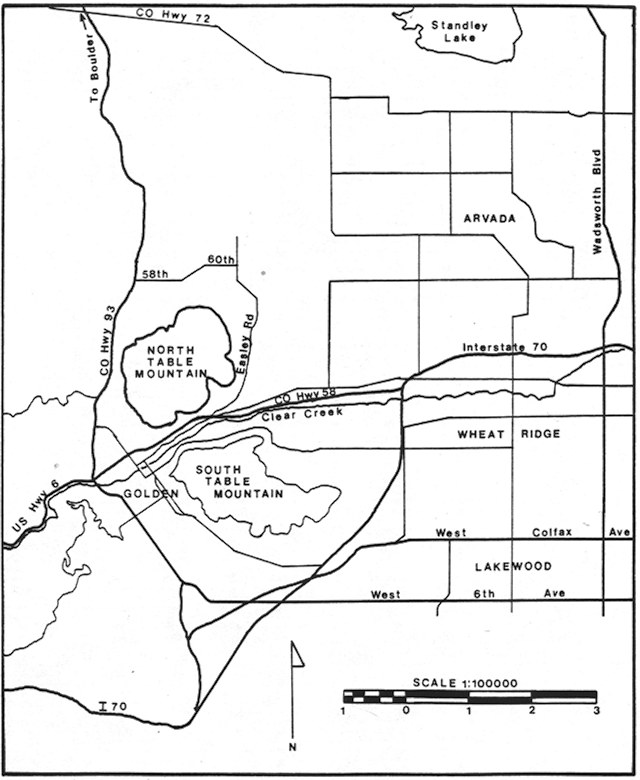 Figure 2. Geographic setting of North Table Mountain.
Physical Characteristics
Geology and Geomorphology
Literature Cited:
- Zeise, Larry Steven, 1976.
Locations: Arvada Overlook. Golden Overlook. North Table Mountain. Zeise Peaks.
North Table Mountain is about two miles long, one mile wide, and covers an area of approximately 2120 acres (Zeise, 1976) at the base of its steep slopes. The top, a rolling plateau above the steep cliffs, covers an area of about 1000 acres. For reference purposes in this report, we have designated place names as shown on Figure 3. North Zeise Peak is the high point at 6566 feet; the Arvada Overlook on the northeast and Golden Overlook on the southwest also exceed 6500 feet. From these high points the upper plateau slopes southeastward, the northern portion draining to the east and the southern portion to the southeast.
The flat-topped shape of North Table Mountain results from a lava cap of three flows overlying the softer Denver Formation. In many areas, part of the Denver Formation is between the middle and lowermost basalt layers because of deposition of lava in eroded valleys. These lavas are basaltic, very hard and resistant to erosion, and thus remain perched on softer, more erodible sediments. Steep 30 degree slopes surround the plateau top.
Literature Cited:
- Van Horn, Richard, 1976.
- Waldschmidt, W. A., 1939.
Locations: Ralston Dike.
The basalt flows probably originated in the Ralston Dike two miles northwest of North Table Mountain (Waldschmidt, 1939) and occurred during the Tertiary Period approximately 35 million years ago. Van Horn (1976) terms the flows latltes and describes them as follows:
Flow 1, the lowest and oldest, is confined to North Table Mountain, occurred as tongues in depressions, and is a maximum of 60 feet thick in its central parts;

Flow 2 varies from 70 feet thick on the southwest corner of the mountain to 125 feet thick at the northeast corner;

Flow 3 is the thickest of the flows, ranging from 50 feet to a maximum of 172 feet thick on the western side.

Literature Cited:
- Kile, Daniel E., and Peter J. Modreski, 1988.
- Modreski, Peter J., 1992.
- Scott, G. R., 1972.

The U.S. Geological Survey has classified these volcanic deposits as the Table Mountain shoshonite (Scott, 1972). Various zeolite minerals occur as filled vesicles in these flows; these have been described by Kile and Modreski (1988). North Table Mountain is a nationally recognized locality for zeolite specimens, which are collected and studied by many students and mineralogists; specimens of local zeolites are on display at the Colorado School of Mines Geology Museum (Modreski, 1992).
During cooling of the flows, contraction caused formation of vertical joints which are reflected today in the steep cliffs surrounding North Table Mountain. This rim of columnar basalt gives the mountain its characteristic appearance and contributes to its wildlife habitat diversity.

Literature Cited:
- Soil Conservation Service, 1980.

Beneath the hard cap of basalt arc the softer claystoncs, arkoses and conglomerates of the Denver Formation. Most of the lower slope is underlain by the Denver and Arapahoe Formations. These weaker sediments erode easily by action of wind, frost or water, undermining the foundation for the overlying jointed flows. Massive blocks of basalt then fall away from the edge of the plateau, littering the slopes with talus debris. Such rockfalls have occurred in recent years, sometimes causing property damage. Weathering of the slopt sediments of the Denver Formastion also forms a soil zone containing swelling clays and a hazardous landslide potential if disturbed by construction activities (Soil Conservation Service, 1980).

Locations: Arvada Overlook. Big Ravine. Coors Plateau. Fairmont Ravine. Golden Overlook. Golden Ravine. Lichen Lakes. Vaca Lake. Zeise Peaks.
Distinctive features and place names for North Table Mountain.

Figure 3. Distinctive features and place names for North Table Mountain.

Hydrology

Locations: Lichen Lakes. Vaca Lake.

The undulating upper surface has only one natural basin, Vaca Lake, at the northwest corner. Water level in the lake fluctuates as the season progresses, and sometimes the lake dries up completely. Two small artificial impoundments (denoted as Lichen Lakes on Figure 3) have been created, each covering from one to two acres. These serve as summer watering areas for livestock and wildlife, as does Vaca Lake.
Numerous natural springs occur at the base of the basalt cliffs on all sides of the mountain. In addition to providing sources of water for wildlife, these springs often support mesophytic or hydrophytic vegetation. Zeise (1976) notes the occurrence of tall scouring rush (Hippochaete variegata) at a spring on the south side of the mountain. A dense stand of mountain maple (Acer glabrum) frequently used by mule deer occurs at a spring on the north slope of North Table Mountain. The general southeastern slope of the plateau has produced areas of deeper soils, and often moist permanent seeps, at the heads of the major drainages.

Soil Classification

Literature Cited:
- Soil Conservation Service, 1980.

Variations in the depth to the volcanic bedrock produce distinct soil types on the top of North Table Mountain which have been grouped into two main site classifications: Shallow Foothill sites and Clayey Foothill sites. A third type, the Rocky Foothill, is defined by virtual absence of soil over substantial areas of exposed bedrock on the mountaintop, and is also present on the slopes. These same soil types and range sites also occur on South Table Mountain, but are otherwise uncommon in Jefferson County, as is the volcanic substrate from which they are derived. Soil and range site descriptions are from information provided by the Soil Conservation Service (1980). Figure 4 shows the extent and location of these types. Table 1 summarizes the extent and characteristics of the types on the plateau top.
Table 1. Description of Soil Classification Units

| Type | Map Units | Range Site | Char. | Acres | % of Top |
| --- | --- | --- | --- | --- | --- |
| Shallow Soils | 10, 73 | Shallow Foothill | Erosive | 682 a | 78% |
| Deep Soils | 26,27 | Clayey Foothill | Erosive, swelling | 156 a | 18% |
| Rock Outcrop | 138 | Rocky Foothill | Rock | 32 a | 4% |

The Shallow Foothill range site includes almost 80% of the plateau. The native potential vegetation is predominantly grasses, with big bluestem (Andropogon gerardii), little bluestem (Schizachrium scoparium), sideoats grama (Bouteloua curtipendula) and yellow indiangrass (Sorghastrum nutans) most abundant. These grasses are all highly palatable to cattle, and have been reduced or eliminated over much of North Table Mountain, with a concurrent increase in weedy plants and shrubs.
The Shallow Foothill site here is a complex of Bailer variant (10) and Lavina (73) soil map units. Both are well drained loams derived from volcanic rock, and are less than ?20 in. deep. Bailer variant soils contain somewhat less clay than Lavina, and predominate on the slopes and ridges. Lavina soils are 20% to 60% clay and have moderate to high shrink-swell potential. These soils are most extensive along the eastern edge of the mesa (Figure 4).

Literature Cited:
- National Resources Conservation Service, 2018.
Soil types on North Table Mountain, after Soil Conservation Service (1980).

Figure 4. Soil types on North Table Mountain, after Soil Conservation Service (1980). Deeper soils (Clayey Foothill Range SiteO occur in drainages. Shallow soils (Shallow Foothill Range Site) predominate on the top. Rock Outcrops (hatched) form the rim, and rocky slopes (Rocky Foothill Range Site) surround the mountain.

The deeper soils (Clayey Foothill range site, map units 26 and 27) occupy the low areas in which soil has accumulated over the years. The springs, seeps and wetlands on the top of North Table Mountain arc often associated with these deeper soil areas. Potential vegetation for this range site would include mid-grasses such as western wheatgrass (Agropyron smithii), needlegrasses (Stipa spp.), Indian ricegrass (Oryzopsis hymenoides), and blue grama (Bouteloua gracilis). On North Table Mountain, some areas of this range site have been seeded to introduced grasses and are heavily grazed. Because of the deep soils and available water, this is the most productive soil type present on the top. This range site consists of Denver soils, up to 60 in. deep, with 30% to 60% clay and high shrink-swell potential.
The Rocky Foothill range site on the plateau top (map unit 138) supports the vegetation known as the Lichen-Rock community. Soil, what there is of it, occurs only in small crevices in what is basically an area of exposed latite bedrock.
The remainder of North Table Mountain consists of rock outcrops and cliffs along the rim (map unit 138), and the steep side slopes (map unit 81). Soil types on these slopes are the Leyden-Primen-Standley extremely stony clay loans, which are characteristic of hill slopes below volcanic mesas. They range from shallow to deep, are well drained, and are characterized by rapid runoff which can create a severe water erosion hazard. Small inclusions of Standley-Leyden-Primen very stony clay loans (map unit 148) occur in areas where soil is reworked by erosion and deposition. Although these slope soils are also part of the Rocky Foothill range site, they are far more productive than the rock outcrop, and are dominated by juniper (Juniperus scopulorum), mountain mahogany (Cercocarpus montanus), and other shrubs, with a mixture of grasses and forbs in the understory.

Cultural History

Presettlement and Historic Use

Literature Cited:
- Cannon, George L., 1877.

Locations: North Table Mountain.

Although heavy Indian use of Jefferson County is well known and documented, there is little evidence of aboriginal use of North Table Mountain. It is logical to assume that it was frequently used for hunting and burial, although probably not generally for year-round living. Many of the solid artifacts, such as arrowheads and tools, were picked up long ago by early settlers and few obvious artifacts remain today. An Indian circle on North Table Mountain was described long ago in a Smithsonian report (Cannon, 1877).

Next in importance to the fire-places are what are locally denominated "Indian circles." They are usually constructed of bowlders arranged in the form of a rude circle, about a yard in diameter, with a cavity a foot or two in depth, hollowed out in the center. The most common opinion is that they were used by the indians as fireplaces. The modern indians are said to encamp in sites similar to those in which these circles are found, and in some cases surround their fire with a wall of stones, to prevent them from being extinguished by the wind. Some have supposed that they were occupied by signal-fires, and this may have been the case, as most of them are in situations that would be suitable for the purpose. Again, it has been thought that they mark the graves of some prominent indian warrior or chief, although it was not the usual custom of the Indians to bury their dead, but rather to place the corpse on an elevated platform.

One of these circles, on North Table Mountain, appeared so much like a grave, that a party of excursionists made an ineffectual attempt to open it, in hope of finding something to reward their pains, as indians frequently bury utensils and weapons with the dead. The wall surrounding the supposed grave differs from that of other circles in being constructed of flat slaps of basalt, instead of bowlders of quartzose rock, and on the southern size of the inclosure from the crater of an extinct volcano a mile or more distant, and had the appearance of a tombstone. The ground for some distance around gives forth a hollow sound, as if there were a cavity beneath, and on a hill near by is a mound apparently intended as a mark in finding the grave.

Literature Cited:
- Robinson, C. K., and B. Benz, 1978.

This was the only documented Indian find on the mountain until the intensive archeological study (Robinson and Benz, 1978) carried out on the southwest portion of the plateau. This study was carried out only on land owned by Western Paving Construction Co., this being about one-quarter of the top of the plateau, and done in conjunction with their application for quarrying this portion. This study discovered only two isolated jasper waste flakes as evidence of possible aboriginal use of the survey area. Although additional archeological studies are needed for the remainder of the area, the long use of the area and easy accessibility suggest that most archeological evidence has long since disappeared.
The same study did find four recent sites, 50-150 years old, that reveal some use of the area by white man, although these have not been tied directly to particular settlers. The study does mention evidence that an area in Section 22 where deeper soils occur was considered good farmland.

Site 1, near the southwestern tip, consisted of a single building foundation about 20 feet by 25 feet constructed of concrete mortar and small rocks.

Site 2 consists of remains of four historic structures, all of dry laid local (latite) unshaped rocks. Many of the rocks used were three to live feet in diameter. The structures range in size from 20 by 12 feet to about 22 by 30 feet and arc located less than 50 feet apart.

Site 3 consists of a keyhole-shaped natural rock structure about 16 feet long and 5 feet deep.

Site 4 is a three-sided structure built around a 15-foot boulder too large to move.

Literature Cited:
- Manley, Joyce A., 1989.

The only known residents on the plateau were Frank Bussert and his son Roy. Manley (1989) interviewed Roy and wrote the following:

Frank Bussert ... immigrated to Denver in 1892. He worked at the Tabor Opera House as a carpenter for two to three dollars a day, until the economic depression a year later (the "panic of 1893') when there was no work. In 1894 he homesteaded to North Table Mountain, where he built a stone house eighteen feet by fourteen feet. The family had cows, chickens, pigs, a garden and they hunted wild rabbits and collected wild honey. There were springs and lakes for water, but they had no horses or a wagon. He worked at the brick yard and, eventually, the family acquired over six hundred acres. Frank Bussert died in 1918.

Roy Frank Bussert remembers a hail storm and flood on 24 July 1896. Their stone house on top of North Table Mountain had more than two inches of water on the floor and he recalled that he was 'scared to death.' He and his brother sat on his mother's lap while she held a parasol in one hand, a Bible in the other and prayed to God to save them.

Roy F. Bussert continued to farm with his wife Dolly (Grace) Tripp and, although there was only a 'good' crop about every third year, in 1916 he harvested 1800 bushels of wheat. He also raised turkeys and domesticated coyotes. (The coyote hides sold for three to five dollars apiece and were used for women's furs.) A colony of hawks that nested on the north side of the cliffs sometimes took the chickens and destroyed the wild birds (pheasants, grouse, etc.).

Roy Bussert lived on the mountain until 1922, when he moved to Golden.

Literature Cited:
- Foss, Heine, 1990.

Mr. Heine Foss, subsequent landowner, relates that the original Bussert homestead was only about 160 acres (Foss, 1990). They eventually enlarged their holdings to 640 acres which included much of the southern portion of the plateau.
Mr. Foss also relates that Roy's younger brother Casper told him that the mountain was originally covered with an excellent stand of grass, rich in the native species common to the area. The dense grass was knee high on the cattle and included large amounts of turkeyfoot (big bluestcm), quite a little blue grama and side-oats grama, and some buffalo grass (Buchloe dactyloides).
Subsequent owners of the mountain heavily overgrazed the grassland. Mr. Foss reports that by 1950, when he purchased much of the mountain, the area had been so heavily overgrazed it supported mainly cheatgrass (Bromus tectorum). Such overgrazing was not unusual—at that time it happened throughout the west, creating in some places desert-like vegetation, and allowing heavy erosion to occur. Time and education efforts have helped ranchers generally understand and carry out better grazing practices, which arc much more economical in the long run.
After his purchase of the land, Mr. Foss embarked on the buildup of the grasslands. The two cultivated wheat fields in Section 22, which after abandonment were almost solely in cheat grass, were replanted with grasses, as was much of the entire range. He embarked on a program of planting $1000 of grass seed per year for more than twenty years. These grasses included tall whcatgrass (Agropyron elongatum) in the lowlands, and intermediate and crested wheatgrass (Agropyron intermedium, A. desertorum) elsewhere. In addition he filled in eroded ditches and gullies to help recreate a more natural landscape, and to support his herd of Purebred Polled Herefords. These were allowed to graze only in the winter. After calving in the early spring, they were taken off the mountain and grazed elsewhere.
Today grazing is under the control of the major owner, North Table Mountain Corporation, who leases the land for beef cattle grazing. The grazing coincides with the growing season, and the cattle are removed after they have harvested most of the palatable forage. Cattle are placed on top of the plateau in May, graze on the plateau for most of the season, and gradually work their way down the sides in the fall, as the forage on top is eaten. The length of time grazing takes place varies with the season and its productivity.

Literature Cited:
- Historically Jeffco, 1989.

Another use that took place on North Table Mountain has been described as follows (Historically Jeffco, 1989):

visible from West 32nd Avenue and Hi 58, looking north across the Coors Brewery to the south face of North Table Mountain, a grove of trees stands alone nearly half way to the top of the flat mesa. Before the turn of the Century, Henry Koch, a German who liked the amusements found in the "Old Country," built an outdoor bowling alley and a dance floor, with rustic tables and chairs alongside the south face of North Table Mountain. On Sundays Koch would insure that kegs of beer were carried to his "beer garden" before people would begin to arrive. By train, wagon, horses and carriages, and often on foot with the purpose of dancing and drinking beer, people came to this mesa. Children would play around the small trees while their parents gossiped, danced, bowled and drank copious amounts of beer. Today the grove of trees marks the place where early Jefferson County Germans remembered their heritage.

The grove of cottonwood trees and the levelled area remains as a reminder of this early use.

Literature Cited:
- Manley, Joyce A., 1989.

Manley (1989) has discussed in considerable detail land use in the area to the east of the mountain but other than the information on the Bussert family, nothing else is noted for the mountain itself.

Mining History

Literature Cited:
- Patton, H. B., 1900.

The removal of quantities of bulk latite materials has been taking place on North Table Mountain for almost a century and is best termed quarrying, and not mining. The earliest record of such activity was from 1898 and 1899 when a small quarry on the east side of the mountain operated by the School of Mines (Patton, 1900) was opened for the purpose of obtaining zeolite specimens for its mineral collection. These beautiful crystalline structures are described in detail in that article.

Literature Cited:
- Manley, Joyce A., 1989.

Manley (1989) notes that shortly thereafter, in 1901,

a rock quarry was operated on the top of the mountain. Fred Easley said that a steam crusher was located at the bottom of North Table Mountain and the gravel was hauled to Lakeside by a team of horses. West 44th Avenue was graveled in 1907 or 1908…

Literature Cited:
- Foss, Heine, 1990.

Foss (1990) recalls more about this quarry, which overlooks Golden on the west side of the plateau where the present large quarry is located. The quarry was run by a man and his son who began the quarry and built a large, deep "glory hole" in which to dump the loose material for subsequent transfer to the tipple, crushers and for loading and hauling off. They used a "sandy andy" system for lowering the rock from the glory hole. This system used two ore cars attached by a cable. When the full one was released, it raised the second to the glory hole for loading; and the procedure was then repeated. The weight of the ore was used to haul the empty car up to be loaded, and the only energy required was for braking.
One day the glory hole became jammed and the son went in with a crow bar to loosen the rock. In so doing he was trapped with the rock and went through the chute and was killed. The father closed the quarry after that incident.

Literature Cited:
- Manley, Joyce A., 1989.
- Schochow, S, 1978.

Both Schochow(1978) and Manley (1989) note that a second small quarry, above Highivay 58, was operated in the 1930's, and old roads that probably serviced that activity are still evident.

Literature Cited:
- Argall, George O., 1949.

The most significant operation on North Table Mountain was the quarry with the glory hole located on the west side of the mountain (Section 21) described earlier. This quarry was discussed by Argall (1949, p116ff) and described by Schochow as follows:

This pit probably was first opened in 1925 by the Golden Basalt Products Company, operated at the time by the Gibbons-Lawrence Construction Company of Denver. Between March and November of 1925, a 120 by 75 foot quarry (0.2 acre) had been developed with a small steep excavation known as a 'glory hole' situated between the main quarry and the rim. Quarried rock dumped into the glory hole proceeded down through an upraise to a loading point. From there the rock was loaded into cars and let down the hillside via surface tramway, the line of which can still be seen due west of the glory bole and terminating at a site on the abandoned railroad grade along Cressman's Gulch just east of Ford Street. In 1925 about 24,430 tons of rock were quarried and processed at a rate of 1974 tons per day and used for concrete aggregate and other purposes.

Literature Cited:
- Schochow, S, 1978.

This quarry site was reopened in 1949 and expanded to seven acres by the Ralph Rogers Company of Indianapolis. Quarried rock was trucked down the existing road to a crushing and loading facility at the base, remains of which are still visible. This plant had a capacity of 3000 tons per day, which was the second largest production rate in the state at the time. The crushed stone was shipped to Nebraska via railroad (Schochow, 1978).

Literature Cited:
- Schochow, S, 1978.

The quarry and plant operated through 1950. Between 1958 and 1960, other contractors operated the site on a short-term basis. The most recent mining activity on North Table Mountain was in 1976 when Western Paving Construction Co. processed some of the waste rock left by the earlier operations (Schochow, 1978).
In 1973-1974, the Colorado Geological Survey identified the latites on North and South Table Mountains as two of the very few high quality rock resources along the entire Front Range. These deposits are hard and durable and have potential for use as concrete aggregate, crushed stone for highway construction, and similar uses.

Ecological Features

Vegetation

Literature Cited:
- Zeise, Larry Steven, 1976.

The present vegetation cover of North Table Mountain consists of six basic structural types, within which are often several distinct communities. These major types are summarized below based on descriptions by Zeise (1976), and described in more detail throughout this section. The vegetation map (Figure 5) is adapted from Zeise's report. No new vegetation data have been collected; this report summarizes the original quantitative data and presents additional descriptive information based on our observations.
Grassland Type
The Grassland type covers the greatest portion of the mountain top and the east, south and west slopes. It has been heavily grazed for almost a century and is dominated by grasses and forbs. Because of grazing, original grassland types have been modified or eliminated to the extent that mapping of separate grassland types has not been attempted to date.
Grassland-Shrub Type
Isolated shrubs or small groups of shrubs within the grassland matrix are characteristic of many areas of the east, south and west slopes, where this type is extensive.
Shrubland Types
After Grassland, the second most abundant cover type is Shrubland. There are several communities depending on available moisture, and degree and aspect of slope. The two most abundant, mixed shrub and mountain mahogany, are described in more detail.
Lichen-Rock Type
This type is controlled by the lack of soil, and is co-dominated by lichens, grasses and forbs. The Lichen-Rock type is confined to high areas with exposed volcanic bedrock and contains the sparsest vegetation cover.
Woodland
Woodland consists of scattered trees, nowhere forming true forest, but usually in small isolated strips or pockets. Three distinct communities occur: mountain maple pockets on the north slope and in ravines; a cottonwood woodland in ravines; and a juniper savanna on the south slope.
Riparian
The Riparian type is a predominantly herbaceous type found in narrow belts along upland drainages, extending beyond any tree cover, and containing patches of wetland forbs and grasses.

Vegetation types on North Table Mountain, adapted from Zeise (1976).

Figure 5. Vegetation types on North Table Mountain, adapted from Zeise (1976).

Description of Vegetation Types

Literature Cited:
- Zeise, Larry Steven, 1976.

The existing vegetation patterns reflect the operation of human influence as an ecological factor through the past. Three of the most important influences are grazing, fire and mining. Mining operations have made intense impacts, but have been confined to limited areas of the south and southwest portions of the upland lathe deposits. Grazing pressure has been more extensive throughout the upland grassland communities for long periods of time, strongly affecting the composition of those types. A secondary effect of grazing on vegetation was due to reseeding following overgrazing. The shrublands have been affected by grazing animals the least, and presently provide food and shelter for deer and other wildlife. Table 2 summarizes cover characteristics of the vegetation types sampled by Zeise (1976).
Table 2. Characteristics of Major Plant Communities