If you have a question or a comment about this photograph you may write to me at: tas4@schweich.com I sometimes post interesting questions in my FAQ, but I never disclose your full name or address.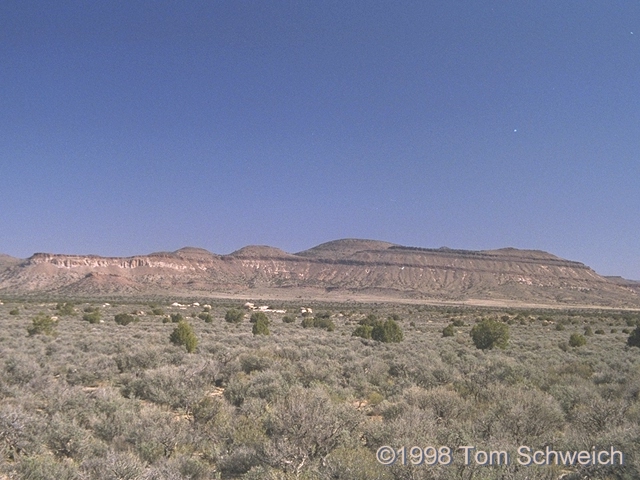 The gray shrubs are Basin Sagebrush (Artemisia tridentata) and the large green shrubs are Utah Juniper (Juniperus osteosperma). Pinto Mountain is composed of Hole-in-the-Wall Tuff, Winkler Formation, and Peach Springs Tuff. In the loose rock at the base of Pinto Mountain are boulders of gneiss and schist. That would indicate to me that the basement rock under Pinto Mountain is at or very near the surface.

Location records that use this photograph:

Article records that use this photograph:
Black Canyon Road - Mojave National Preserve: in Round Valley.
Autecology of Desert Elkweed Frasera albomarginata S. Watson (Syn: Swertia a.) Gentianaceae in the American Southwest: at Pinto Mountain.
Other photos about Geography - Eastern Mojave or Round Valley.
---
Date and time this page was prepared: 11/20/2023 9:50:00 AM